creating links initially started out as a collaboration of art psychotherapists from different nations who aim to support communities by training professionals that work with children in the context of diversity, trauma or displacement. In 2020 Carolyn opened a community-based private practice in order to directly offer therapy and counselling services to children and families in Berlin. The multicultural creating links network remains active until today, continuing to support other colleagues and communities by offering international training programmes and events. 
Gwen brings over 12 years of experience working with diverse communities and under-represented groups. As a qualified Art Psychotherapist she supports children in schools and those impacted by life threatening illnesses in England, her place of origin. She has spent time in different countries, including Japan, Nepal and Canada and has worked with children in Ghana. Gwen has experience of delivering art workshops and community projects for refugee and asylum seeking families. She holds a firm belief that combining the arts with psychoeducation promotes empowerment and development within communities leading to growth and resilience.
Nehama received her MA in Art Therapy from the University of Haifa, Israel, and her BFA from the Academy of Fine Arts, Florence, Italy. Originally from Jerusalem, she has worked with diverse populations in different settings and countries, such as Ethiopia, Armenia, Germany and Israel. These include working individually and in group settings with children with autism spectrum disorders, HIV/ AIDS and adults with PTSD. For the past four years she has been working in Berlin, Germany, with at-risk children from migrant and refugee backgrounds. Nehama is currently focused on integrating art-based mental health support for children dealing with trauma in school and refugee-shelter settings.
Monika has a background in psychology and art psychotherapy and works as a supervisor for art therapists through BAAT, UK. She has practiced art therapy with refugee and migrant groups in London and Berlin before working in the West Bank for two years, where she offered group art therapy for young Palestinians who wanted to learn about non-violent conflict resolution. She currently works as a psychological counsellor in a rural area in Germany. Her work with horses influences her way to communicate nonverbally. Monika has been researching and writing about intercultural skills in art therapy since 2005. She is passionate about reflecting on therapeutic approaches that fit the needs of  clients whose ideas about the world might differ from those of their therapists. 
Zoe has over 15 years experience working with disenfranchised groups. This includes 10 years in Northern Thailand where she founded an arts charity, working with refugees escaping the atrocities of the Burmese military regime. Zoe is of Irish origin and currently works in London, providing art psychotherapy for people with complex needs as well as for survivors of abuse at a women's charity and in private practice. Zoe's belief in the power of creative expression to give the unspoken a voice underpins her work.  She holds an M.A. in Integrative Arts Psychotherapy and an Advanced Diploma in the Therapeutic and Educational Application of the Arts. 
Vicky is a Masters qualified, state registered Art Psychotherapist. Vicky has facilitated art psychotherapy with adults, children, young people and families within schools, statutory services and charities in the UK. In these settings, she has supported refugees, unaccompanied minors, those with experiences of trauma as well as those struggling with relationships and identity. Vicky is of English and Polish decent and has an interest in the the way people of different cultures experience and navigate difference. Within this personal context, she is dedicated to supporting people in the creative exploration of their experiences and the deepening of their sense of self.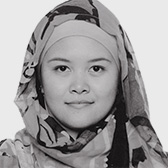 Arie lives in Indonesia, where she works as an Art Psychotherapist and faculty member of the Bandung Institute of Technology. She has studied in a variety of countries and qualified in London, England. In Indonesia, Arie was involved in several recovery projects, where she worked with victims of natural disasters. She brings extensive experience of working with children and adults with mental health diagnoses, addiction disorders and learning disabilities. She aspires to create a more inclusive society and believes that the universal language of art is the key.